The NewsYet – Amazon dethrones Apple as most valuable brand in the world – GSMArena.com news – GSMArena.com
The NewsYet –
Amazon is now the world's most valuable brand, unseating Apple and Google, and ending the 12-year run of technology brands atop BrandZ's list. Amazon was the third most valuable brand in 2018, behind Apple and Google but rose to the top thanks to a 52% year-on-year increase in value.
Amazon's brand is now valued at $315B, while Apple and Google are neck and neck at $309B. Microsoft sits firmly in fourth with an estimated brand worth of $251B.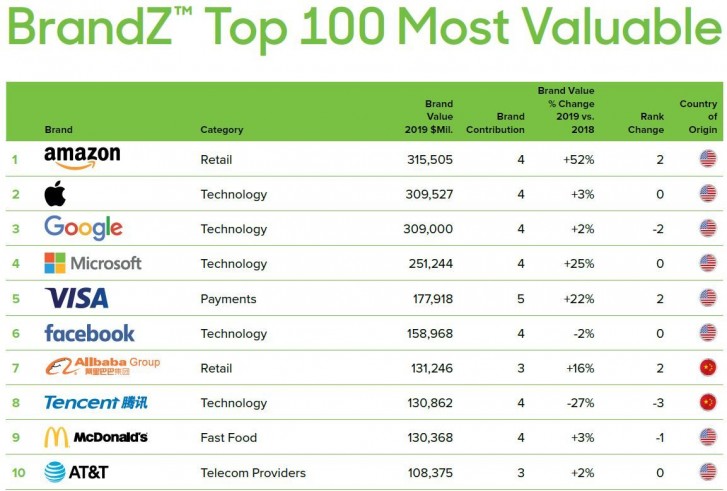 It's important that we differentiate between most valuablebrandand largest company bymarket cap. Microsoft is currently the biggest company, in terms of its market cap, at around $1,016B, followed by Amazon's $916B, Apple's $751B and Google's Alphabet at $750B.
Back to the world's most valuable brands – 8 out of the 10 are American companies with Visa, Facebook, McDonalds and AT&T filling in the blanks. The other two are Chinese brands Alibaba Group and Tencent.
Out of all listed brands only Tencent and Facebook have seen a year-over-year decrease in brand value – -27% for the Chinese company and -2% for the social network giant.